In Bend, there is an abundance of quality places to eat & drink – perhaps as many as there are natural attractions to explore.
And maybe there are so many restaurants because of how easy it is to work up an appetite here in Central Oregon. After all, playing outside is a great way to exercise, satiate your inner explorer, and… well… get hungry.
Anyway, after finishing up an epic hike, you now need a spot to re-fuel, reflect, and make some new memories. With so many dining options to choose from, don't let yourself spiral into a paralysis by analysis. There's no time for this – you're probably getting hangry. Apply a filter to narrow the search and speed up the process.
(You're in Bend – dine outside)
Good call. While this does narrow it down a bit, we still have a sizable pool of choices. But hey, you know that you want to stay outside, and that is a great start. We whipped up this list just for you. Here are 5 restaurants with quality bites, brews, and seating under the Central Oregon sky.
1.) Pacific Pizza & Brew
Just under a half mile walk from Pine Ridge Inn is Pacific Pizza & Brew. Pacific has a spacious patio with a modern feel, plenty of seating and shade from the sun. 90% of their beer list originates from Oregon, with a few of taps hailing from California and Washington. This is a hip and convenient spot to get a taste for the Pacific Northwest. Choose your table, your brew and a slice of pizza and you will be fueling up in minutes.

2.) La Rosa
La Rosa is a modern Mexican kitchen, and actually one of Bend's most awarded restaurants. They serve refreshing margaritas and first rate enchiladas or fajitas. Their Northwest Crossing location is a five minute drive from our parking lot and offers a cozy patio which can be heated after the sun sets. This is an ideal place to enjoy a romantic meal under the stars.
3.) Sunriver Brewery on Galveston
One of the coolest patios in Bend is in Sunriver Brewery's backyard, where an outdoor meal and a pint is a suitable option for any time of year. Patio misters make the breeze more meaningful and keep you cool in the summer. During ski season, patrons stay warm by the fire pit or under the covered community table, equipped with heaters.
Sunriver's eclectic menu moves with the seasons and is filled with high quality offerings for all kinds of foodies. Don't be afraid to bring your furry four legged friend – they are more than welcome on the patio. In fact, I bet they deserve a Ruby Burger!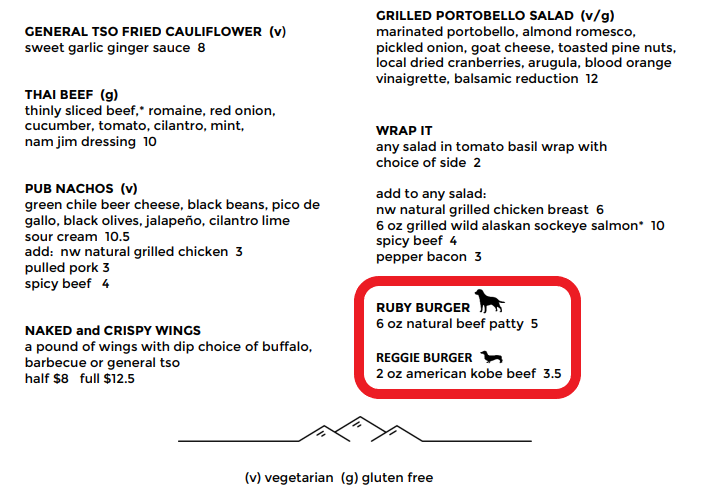 4.) Greg's Grill
In the Old Mill District, along the Deschutes River sits the locally owned and favorited Greg's Grill. This casual fine dining restaurant serves Northwest styled dishes in a lovely atmosphere. Casual hiking garb is welcomed with open arms, and even encouraged if you're sitting out on the patio. Enjoy the view, and maybe even sounds from a concert at Les Schwab Amphitheater, situated across the river. Check out our recent blog post to see if there is a concert playing during your visit.
5.) Crux Fermentation Project
There is so much to reason to rally around Crux Fermentation Project. At the "crux" of Crux is a love for top notch craft beers, like the Pilz and Gimmee Mo' IPA. These brews stand out even in a community flooding with some of the world's best beer. Crux's pub is smack dab in the middle of Bend with a beautiful and spacious lawn. Complete with food trucks, corn hole, and stunning views of the Cascades, it's no wonder Crux always seems to be busy. Catch their Sundowner Hour for sweet discounts on beer and appetizers.
---
The Pine Ridge Inn is close to all these great restaurants and more. Book a stay with us to experience the all culture that Bend has to offer.