Bend may be a small town but you will eat and drink well while you are here. In fact, you could spend your entire trip eating and drinking and barely scratch the surface of the amazing culinary delights Bend has to offer. We've already written a some great Local Restaurants, so we thought that this time we'd tell you everything you need to know about Happy Hour in Bend. Whether you want sushi, yerba mate cocktails, or cheap craft beer, you will find something delicious and budget friendly during in those wonderful golden hours known as "Happy Hour."
Food
Many locals say the The Pine Tavern has the best happy hour in town. First opened in 1936, the Pine Tavern is also one of the oldest culinary establishments in town. This welcoming, wood paneled restaurant specializes in classic American comfort food like steaks, seafood, chicken, and pasta. Costs are usually in the $20-$30 price range, but during happy hour, many items on the menu are under $5, including a ½ pound burger for only $4.95! You'll also find discounts on their cocktails. Come for cheap grub and a little local history. Happy Hour is all day Sunday, 12-5 pm on Saturday, and 3-6 pm the rest of the week.
5 Fusion Sushi Bar is another great chance to get normally fancy fare at a reduced price. Executive Chef Joe Kim and his team serve up inventive and delicious sushi in a sleek, ultra-modern space that is unique to Bend. During Happy Hour, you'll find a variety of sushi rolls and appetizers for $5-7 along with discounted beers and cocktails. Happy Hour is 4-6 pm, Monday through Friday.
Drake also has a stellar Happy Hour menu where you can get discounts on favorites like portobello fries, grilled mahi mahi tacos, and roasted cauliflower. You'll also find their Signature and Classic cocktails for reduced prices of $7 and $8. Come daily from 3-5 pm for great food and drinks in a fancy diner setting.
In the mood for pizza? If you buy a whole pizza pie at Pizza Mondo in Downtown Bend, you'll get half-off all drinks, appetizers, and salads. Pizza Mondo is our favorite pizzeria in town, so take advantage of this amazing deal when you can.
Beer & Wine
Breweries should be part of every Bend itinerary, but hit them up at Happy Hour for some pretty unbeatable deals. Immersion, Goodlife Brewing, and Crux take $1 off all craft beers and offer some additional discounts on food items. One of Bend's most famous breweries, the Deschutes Brewery Public House, offers $3.50 pints during their Happy Hour. You don't want to miss that!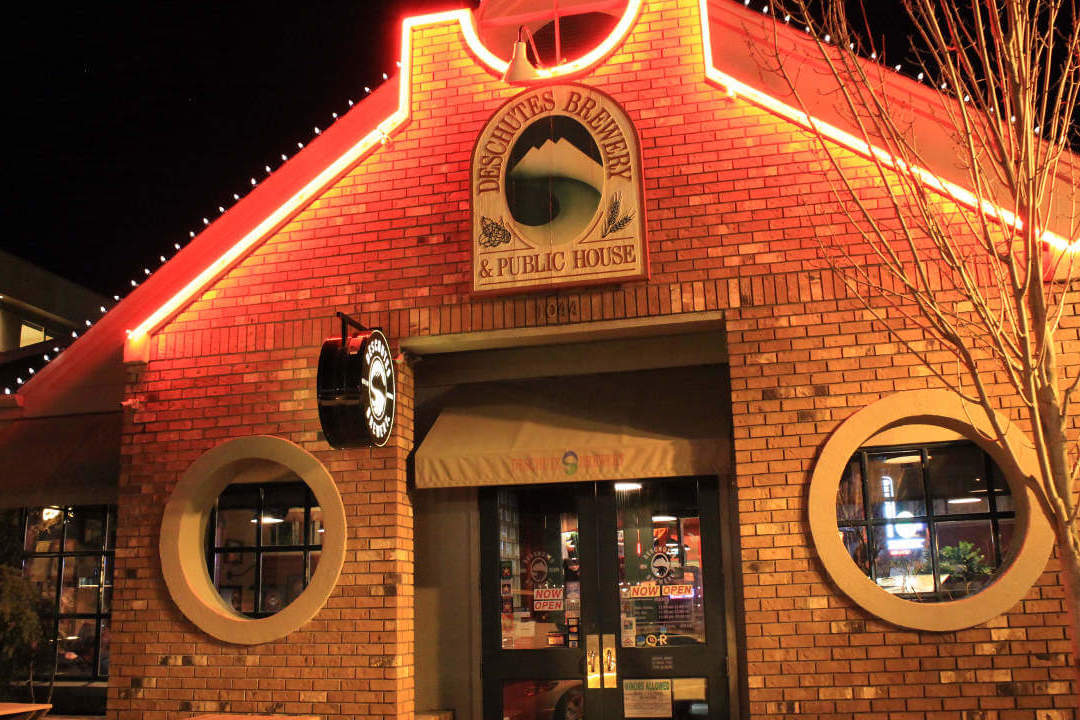 If you are more of a wine person, head to Sip Wine Bar during their Happy Hour for $1 off everything on their menu. Wednesday is Ladies Night so head there with the girls for even better deals on their delicious wines and cheese boards.
Cocktails
We know. The real reason you go to Happy Hour is for the strong stuff. Don't miss Dogwood Cocktail Cabin where you can drink fancy artisanal cocktails in an upscale, cabin-style setting. Their cocktails are all infused with ingredients you don't usually find on a drink menu: beets, peppercorns, habanero peppers, butternut squash, vanilla bean, and more. This stylish bar also happens to have one of the best Happy Hours in Downtown Bend. From 5-7 pm, Tuesday through Saturday, you can get 25% off everything off the menu. And on Sundays this awesome deal goes all day long.
If you are in the Old Mill District from 3-6 pm, head to Level 2 for great views and even better Happy Hour deals. You'll find $5-7 cocktails, $3.50 craft beers, and discounts on their Asian-fusion small plates. Sit on their deck for beautiful views of the Deschutes River.
If you want a truly "Bend" cocktail, head to Velvet, a posh, art-filled bar located Downtown. They specialize in Yerba Mate infused cocktails, ancient drinking vinegars, and speakeasy inspired beverages. For Happy Hour, which is everyday from 5-7 pm, you can get their classic Blue Velvet Cocktail, a unique Moscow Mule, or any food item on the menu for just $6.
Hungry or thirsty yet? We are! Happy Hour is a great way to give your wallet a break and get discounts on delicious food and drink items while mingling with friendly Bend locals.
Ready to eat and drink your way through Bend? Book a stay at the Pine Ridge Inn for convenient access to Downtown Bend, the Old Mill District, and the rest of Bend's most popular culinary destinations.