Bend, Oregon may be a small town, but there is always something exciting happening here. No matter the season, Bend hosts dozens of unique and fun events that attract people from all across the state and country. Here are the events the Pine Ridge Inn keeps marked on our calendar.
For three days every fall, film lovers take over Bend, Oregon. Now in it's 14th year, the annual BendFilm Festival is dedicated to showcasing local independent talent and a diverse range of filmmakers from across the globe. Almost like Central Oregon's own version of Sundance, the BendFilm Festival offers the unique opportunity to discover the work of up-and-coming independent filmmakers amidst the natural splendor and burgeoning arts culture of Bend. For our exclusive guide to where to eat, drink, and play during the BendFilm Festival, click here.
Every February, the Oregon WinterFest hosts a two-day celebration of the joys and wonders of winter. Come to experience stunning ice sculptures, crackling bonfires, expansive craft markets, high-flying motorcycle stunts, and delicious food and drinks. They'll even crown an Ice King and Queen. WinterFest is the perfect event to visit after a day spent hitting the slopes on Mount Bachelor.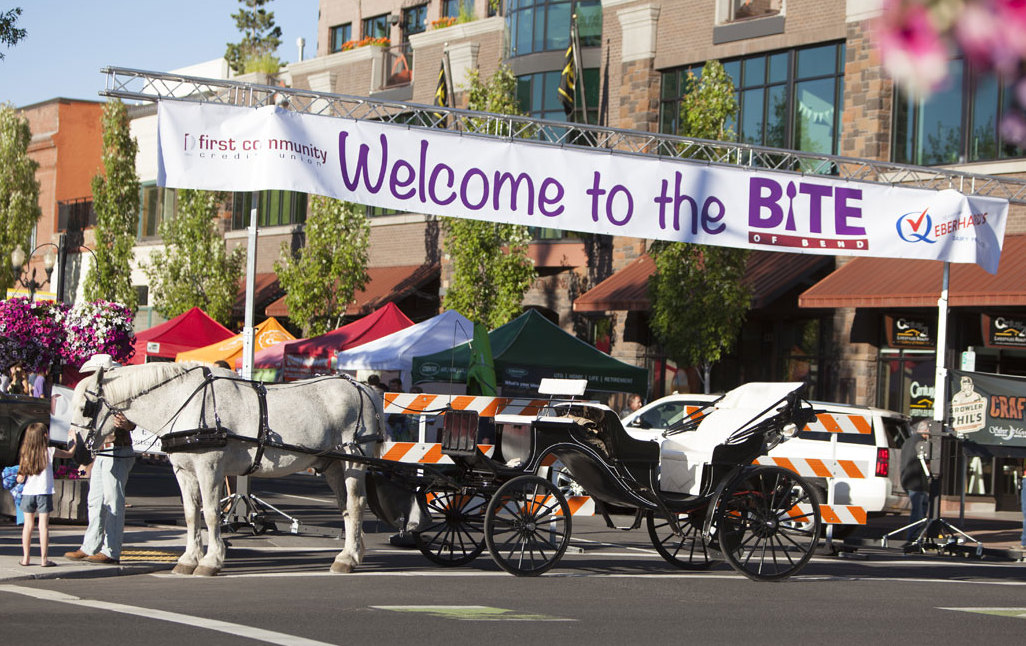 3.   Bite of Bend
If you consider yourself a foodie, Central Oregon's largest food festival should be at the top of your list. For three days every summer, the streets of Downtown Bend are filled to the brim with chefs, bartenders, brewers, home cooks, and gourmands from throughout the region. Bite of Bend is especially dedicated to showcasing local and regional flavors and supporting Central Oregon's unique culinary culture. You can watch local chefs compete in the Top Chef Competition, participate in the 5K Beer Run, or simply explore over 40 vendors selling more than enough food to satisfy your appetite all weekend.
Art in the High Desert is Central Oregon's premiere Arts & Craft fair. Every summer, over 100 jury-selected artists from across the United States and Canada come to Bend to display their creations along the banks of the Deschutes River. Come to buy hand-made jewellery, paintings, metal work, ceramics, and beautiful glassware while also showing your support for artists from all corners of North America.
Balloons over Bend is a beloved Central Oregon summer tradition. Awake at sunrise to watch the balloon launch or stop by after dark to see special propane-illuminated balloons drift across the night sky. During the day, Balloons Over Bend hosts the Children's Festival, complete with a bouncy house, bike rodeo, marble tournament, arts & crafts, and so much more.
Stay in Bend for more than 5 minutes and you will likely hear something about our amazing breweries. It should be no surprise that Bend has its very own festival dedicated entirely to craft beer. For three days every summer, the Les Schwab Amphitheater hosts a lively festival featuring over 170 microbrews, ciders, and wines. Although Bend has more than enough breweries to keep any beer-lover satisfied year-round, the Bend Brewfest is the ultimate craft beer extravaganza. It is a great chance to sample local beer as well as explore unique creations from around the globe.
Coming to Bend for one of these awesome events? Book a stay at the Pine Ridge Inn for welcoming service, large and comfortable rooms, and an unbeatable location close to many popular event venues.