Alongside its world-class hiking, biking, skiing, and beer making, Bend also boasts some of the best fly fishing in the Western United States. Bend's landmark waterway, the Deschutes River, is a highly popular destination for many fly fishers across the Pacific Northwest, but dozens of other lakes, rivers, and streams offer excellent fly fishing opportunities year around.  Fly Fisherman magazine even ranked Bend one of the Top 10 Fly Fishing Towns in the United States. Any expert fly fisherman will tell you that nothing quite beats spending all day on the river, soaking in the breathtaking scenery and anticipating the perfect catch. Whether you are a seasoned angler or a curious beginner looking to try out a new sport, you will find no shortage of excellent fly fishing options in Bend. So tie a fly, cast a line, and wade out into one of Bend's rushing streams for what is sure to be a memorable experience in one of the nation's burgeoning fly fishing capitals.
Tour Operators and Outfitters
Many of Bend's best fly fishing shops also function as excellent tour operators. If you want to give fly fishing a try but aren't quite ready to go out on your own, these are probably your best options. Though fly fishing is a refined technique requiring quite a bit of skill and practice, the friendly and informed guides will go out of the way to ensure that you have an instructive and exciting trip.
The Confluence Fly Shop, located in the Old Mill District, is one of Bend's best fly fishing outfitters. Their friendly and knowledgeable sales associates will help you pick out the right gear or give you advice for selecting the guided trip that is right for you. You can choose from basic trips like Fly Fishing 101 to multi-day camping and fishing adventures. Some classes even come with free beer!
With over 10 years of experience, locally owned and operated Fly and Field Outfitters is a great choice if you want a more off the map adventure. They offer a diverse range of trips to some of the best spots all around Central Oregon, including the Cascade Lakes, Crooked River, Fall River, and Grindstone Lakes. They even offer monthly meetings for local fly fisherman and an ongoing educational series.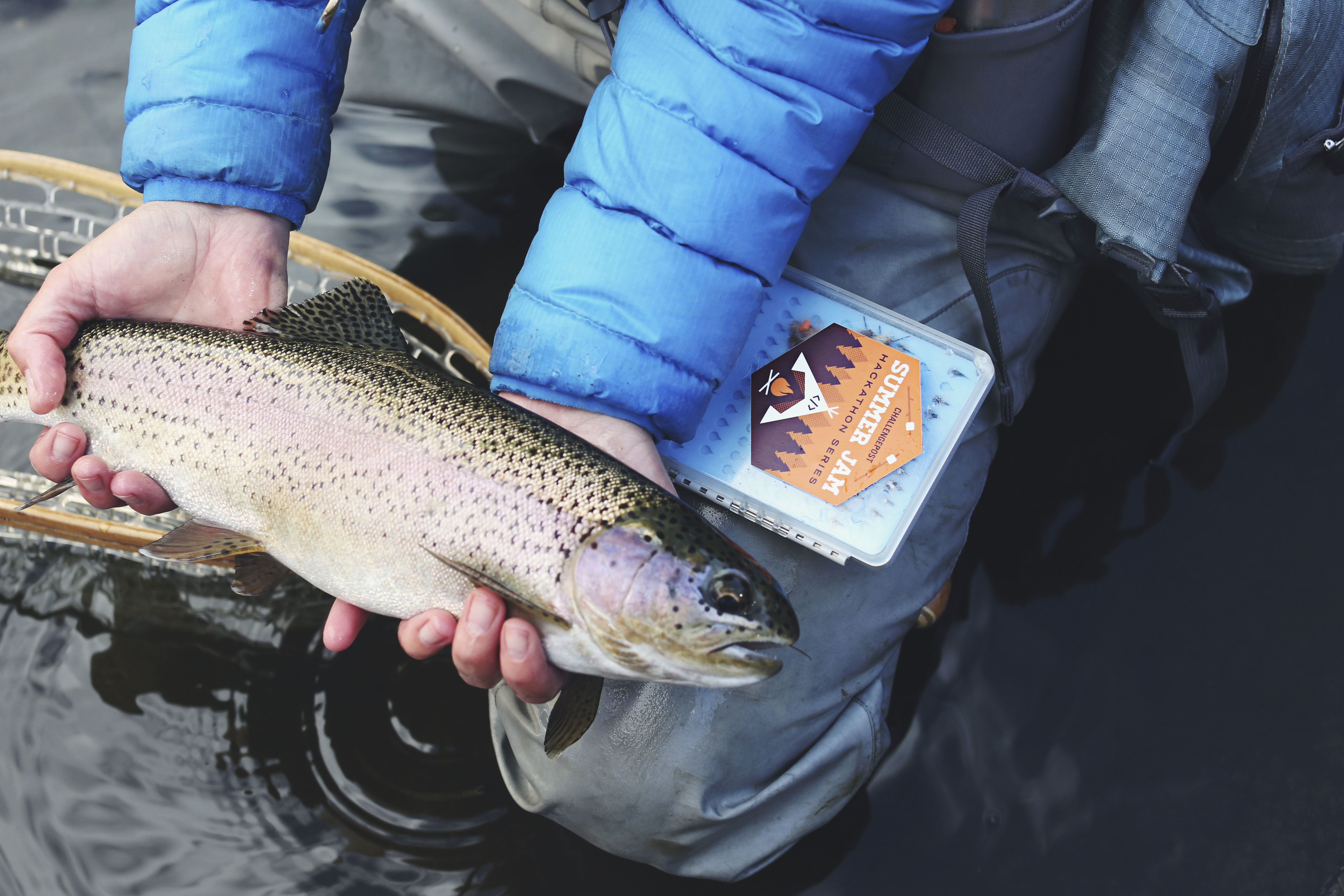 If You're Ready to Go Out on Your Own
The Metolius River is considered one of the loveliest and most challenging fly fishing rivers in the West. Emerging from the fresh springs of Black Butte, the river is home to many fish species, including Rainbow Trout, Bull Trout, Kokanee Salmon, and Mountain White Fish.
The 8-mile Fall River is open exclusively to fly fishers. Fall River flows down from Sunriver, meeting up with the Upper Deschutes near the LaPine State Recreation Area. This cozy, relaxing setting is one of the most beautiful places in Central Oregon to cast a line year-round. The river is filled with Brown, Rainbow, and Brook Trout, but you can find much bigger trout in the less heavily fished crooks of the river.
Many experts consider Davis Lake some of the best big-bass water in Oregon.  3,500 acres wide and only 25 feet deep, Davis Lake sits atop of a porous lava field and provides stunning views of the surrounding Cascade Mountain Range.
Crane Prairie Reservoir is a man-made lake located 42 miles Southwest of Bend. It gets its names from the many beautiful cranes that call the lake home, but it is also well stocked with rainbow trout. Among seasoned anglers, Crane Lake holds an almost mythical reputation as place where, on any given day, you may catch the biggest trout of your life!
And of course, you can't go wrong with a day spent fishing on The Deschutes River. Whether you choose the Upper, Lower, or Middle Deschutes, the spectacular, mountainous surroundings ensure that your fly fishing adventure is both exhilarating and rewarding. The river is home to Rainbow and Brook Trout as well as Mountain Whitefish.  The fishing season begins in June, but the river reaches peak fishing levels in August and early September.
People come to Bend for all sorts of reasons, but more and more visitors are flocking to Bend for its first-class fly fishing opportunities. With its excellent tour operators, beautiful natural scenery, and plentiful year-round fishing opportunities, Bend truly is the one of the ultimate fly fishing meccas in the Pacific Northwest.
---
Thinking about doing some fly fishing around Bend? Stay at the Pine Ridge Inn and let us help you plan your activities while you're here! Book direct for our best rates & amenities