October 14, 2014
As the Trail and Leaves Turn: Bike, Hike & See Oregon's Fall Foliage
By: Todd Wisniewski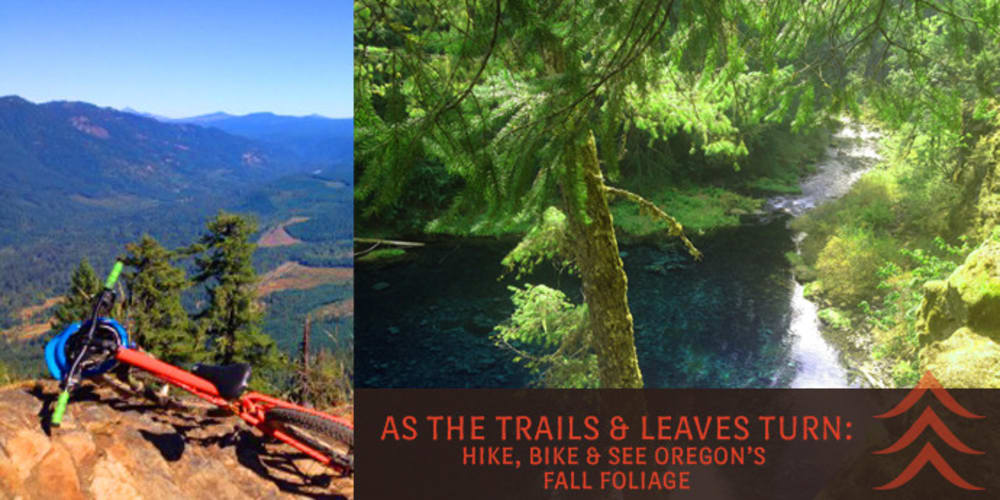 Ahhhh, fall (aka Bend's secret season) is finally here again. So what's in it for you and why is it such a darn secret anyway? Well for starters, you'll get golden leaf-lined trails fit for hiking and biking almost all to yourself. About 93.3% of our much-loved visitors that descend on Bend every summer to get their outdoor-recreation-beer-family-vacation-fix, have to head back to work and get the kids back in school, so this only leaves us (the locals) and some of the retired RV'ers who cruise the back roads – and trails – of Bend, Oregon. And there aren't many of us.
Secondly, you can count on sunny skies and warm temps typically through the month of October (as I write this, it's a whopping 82 degrees outside!).
And thirdly, it'll be gone before you know it. Our fall season doesn't last long before Old Man Winter likes to make his grand entrance. So what are you waiting for? Special hotel rates and mountain biking packages?! We have those too.
Here's a handful of the best fall hiking and biking trails for leaf-peeping in and around Bend, Oregon. And if you're a skier or snowboarder that really could care less about autumn crimson leaves, there are only 40 and some odd days until Mt. Bachelor will open for the ski season (check out th e ski & stay packages!). Hang in there because winter is coming soon enough.
Deschutes River Trail –
The Deschutes River Trail is a large urban trail system consisting of different arms (North, Awbrey, River Run, Pioneer, Old Mill, South Canyon) connecting most of Bend. My favorite sections are the Sawyer Park to Awbrey run and the Riverbend Park loop (South Canyon Reach). But no matter which section – or sections – you decide to tackle, the Deschutes River is almost always in the backdrop along any of these routes and is stunning year-round.
Local's Tip: No driving is necessary. Grab your hiking shoes or mountain bike and hit the Deschutes River trail that sits right below the Pine Ridge Inn Hotel & Suites. And best of all, dog leash laws are lifted after September 15 so you and your four-legged friend can roam the river trail off-leash outside of Bend city limits and in the Wilderness areas of Todd Lake, Green and Moraine Lakes, Broken Top and South Sister.
Shevlin Park –
Shevlin Park is right in Bend's backyard, but feels like a world away. The 9.8 mile scenic year-round trail system offers a lot of variety from hill climbs and canyon rim cruises to creek front flats. Wildlife is plentiful in this park, but so are the people. Because it's so close to town, you can easily grab a gourmet breakfast Benedict with a 'Manmosa' from The Victorian Café and then enjoy a brisk hike for dessert. If you have kiddos who like to fish and are under the age of 17, they can try casting for a trout in Shevlin Pond. Keepers need to be 8-inches or larger with a two fish per day limit.
Local's Tip: Since you didn't wander far from town on this trek, you'll have time to spend the rest of your day exploring some of Bend's harvest-esque activities like pumpkin patches and local farm & ranch tours to beer, wine, and distillery tastings. Or you can opt for some art eye-candy by hopping on the Bend Art Tour bus with Bend's most amusing local, John Flannery, to catching an indie flick at the annual BendFilm festival.
Phil's Trail –
To be honest, there isn't much out here if you are a serious leaf-peeper, but if mountain biking is your passion, you've found the next best thing to 29-inch tires. The Phil's Trail area is an easy ride from the Pine Ridge Inn hotel with plenty of options, like loops, for long or short rides ranging from easy to difficult. The meticulously maintained singletrack trails are courtesy of the Central Oregon Trail Alliance (COTA) as are most of the mountain bike trails you'll find in Central Oregon – thanks COTA! And keep your peepers peeled for art out on the trail – have you spotted Elvis on the ELV trail yet?
Local's Tip: Bring a map and leave your dog at home. I still get lost. And I get the evil eye from my fellow mountain bikers if I bring my minding-her-own-business-runs-right-in-back-of-my-bike golden lab along.
Tumalo Falls –
Start your hike or bike off with a bang! The 98-foot high waterfall sits at the beginning of a very scenic hiking or biking trail. As you ascend up the mountainside with your calves burning and heart racing, remind yourself about all of the waterfalls and golden crimson goodness that lies ahead. From the parking area trek up the trail to Happy Valley. This trail actually connects with the Mrazek Trail, which is a 20-mile singletrack trail (one-way) ending at Shevlin Park. It's recommended you don't Superman this bike trail by making it an out-and-back expedition. Either shuttle your own vehicles or call Cog Wild.
Local's Tip: The Tumalo Falls area has numerous trails to explore on foot or by pedaling. It's been my 13-year experience that we always get our first snowfall by Halloween usually in the higher elevation communities of Sunriver and LaPine and, of course, in the mountains. But don't let this scare you into not taking a late-fall getaway to Bend because the snow doesn't usually stick around until late November. However, if the snow falls, the road below Tumalo Falls will be closed which will add a few extra miles to your trip – and perhaps a pair of snowshoes! Heading deeper into the wild? Make sure you know before you go …
McKenzie River Trail –
Sure, this trail isn't as close to your Bend hotel as the others mentioned, but it's worth the one-hour drive from Bend along the brilliantly colorful HWY 126. The McKenzie River trail is famous for being one of the best mountain biking trails in all of Oregon. But it's also very hike-able. The 26-mile trail, starting at Clear Lake, is considered an intermediate mountain biking roller coaster with plenty of old growth forest, waterfalls and scenic spots for a picnic lunch along the way. The highlight of this hiking or biking adventure is the Tamolitch Pool (aka Blue Pool). For hiking access (4 miles), you'll turn right at the Trailbridge Campground sign, turn right after crossing the bridge, then continue up the road until you see the trail sign on your right. Basically, you are following the river up from this point.
Local's Tip: Cog Wild operates a bike shuttle from Bend so you don't have to hassle with parking at the beginning and end of your trail ride. If you're hiking the trail with your dog, I recommend bringing a leash due to the steep cliff area surrounding the Blue Pool.
Mt. Bachelor –
And since we are talking about mountain biking, I can't forget to mention one of the newest attractions in Bend, the downhill bike park at Mt. Bachelor. Because of that snow stuff we mentioned earlier, make haste and get up there now. The bike park typically shuts down by mid-October. Currently, only difficult and more difficult trails exist now. More trails will open in 2015 so make sure you add this one to your Bend must-dos for next summer.
What's your favorite leaf-peeping fall hike or bike ride in Bend? Share and tell!