December 3, 2018
Things to Do for the Holidays with Kids in Central Oregon
By: Tyler Spragg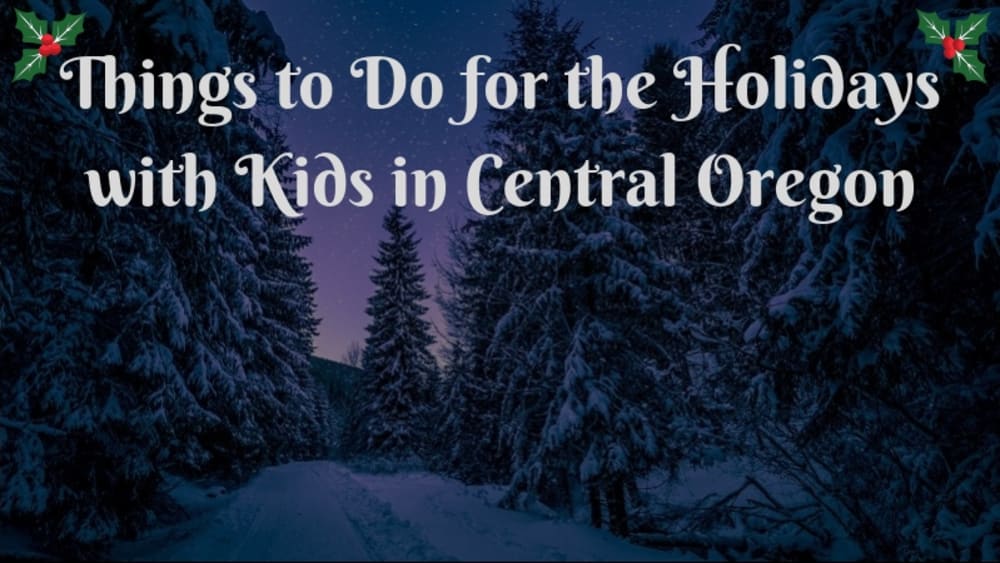 The Holiday season is all about coming together in our communities and with our families. The communities and culture of Central Oregon are vibrant and alive - particularly during the Holiday season. A family in Bend has a lot of activities to choose from during this period between Thanksgiving and the start of the new year. From Christmas plays to special museum exhibits to good ol' fashioned playing in the snow, there is something great for every member of the family! We prepared a guide for you that sheds light on some of the many ways to enjoy the magic of the holidays in our lovely mountain town!
Embrace Fun in the Snow
Bundling up and heading outdoors with the family to enjoy each others company and mother nature is a hallmark of the holidays. Snow flurries usually start rolling in to Central Oregon after Halloween - a seamless transition from Fall festivities to Winter wonders. The humbling feeling of seeing our mountain town covered with a blanket of white snow will make the memories with your family even stronger. Here are some of the best to experience the snow in Bend with kids:
1. Sledding at Wanoga Sno Park
Wanoga Sno Park is an ideal place to bring the kids for some family fun in the snow. Bring up your sleds and inner-tubes and glide down the hills together. It easy to stay warm and cozy between the firepit and hot cocoa stand. Be sure to wait for the base to accumulate to a few feet to avoid extra obstacles that haven't yet been buried. Check out the NOAA conditions to see how it is looking now. A Sno Park Permit is required to use the area - pick yours up downtown at Visit Bend before heading out.

2. Alpine Skiing or Snowboarding at Mount Bachelor
Mount Bachelor is regularly praised as having some of the best alpine skiing and snowboarding in the country, so you will be doing yourself a disservice if you don't check it out while you are here. There are many options for lift tickets depending on your needs - check out Mt Bachelor's pricing for more information. Keep in mind that if you are teaching your kids to ski (or learning yourself), you can park in the Sunrise parking lot and use the Carousel bunny hill without purchasing a lift ticket!

3. Snowshoe Tour
Wanderlust Tours is one of Bend's leading tour operators. It offers a wide variety of tours for all seasons, but we particularly love their Snowshoe Tour around Mount Bachelor and the Deschutes National Forest. Wanderlust's trained naturalist guides will take you on a magical journey through the snow-laden wilderness, pointing out animal tracks and lava flows along the way.
Experience Holiday Events
There is something that you should know about Bendites: we love festivities and gathering together to enjoy great entertainment and each others company. Here are some of our favorite family friendly events in Bend during the Holidays:
1. Holiday Cheer in the Old Mill District
Santa Claus and Christmas carolers will be visiting the Old Mill District throughout the whole month of December to spread holiday cheer. Whether you are visiting Bend in early or late December, the Old Mill District is a great place to spend time and get some gift shopping done.
2. Holiday Shows at the Tower Theater
The historic Tower Theater is a great place to spend some of your holiday. Check out the Tower Theater's Event Calendar for concerts, movies and performances during the holiday season. A couple of our favorites for families are Holiday Magic 2018 and the Swingin' Christmas Performance.
3. The Nutcracker
The Nutcracker is a favorite holiday tradition for Central Oregon families. This charming performance is danced by over 100 talented students of Central Oregon School of Ballet with professional guest artists and members of the Bend community.
Explore New Exhibits at the Educational High Desert Museum
One of Bend's premiere tourist destinations, The High Desert Museum is dedicated to providing visitors with an in-depth and informative understanding of the history, culture, and geology of the North American High Desert. It is the perfect choice for the family that wants to learn but have a great time doing it. Here are some of their special exhibitions for your family to explore while visiting for the 2019 Holidays:
The Autzen Otter Exhibit is located outdoors and includes both outdoor and indoor viewing areas. Nothing brings more smiles than seeing otters play in the Autzen Otter Exhibit! Watch the resident river otters Brook, Rogue and Pitch as they scamper on land, use their slide or go for a swim.
Over the decades, photographer Edward Curtis' sepia-toned prints of Native people have shaped the ways that many people think about American Indians and the American West. Marking the 150th anniversary of Edward Curtis's birth, By Her Hand: Native American Women, Their Art, and the Photographs of Edward S. Curtis features Curtis's photographs of women and the art they created from the Christopher G. Cardozo Collection. The High Desert Museum will also include historical and contemporary works of art created by Indigenous artists from our permanent collection to broaden this story.
Bring a camera and take a holiday photo with Father Christmas. Our beloved 1880s character of holiday past will be waiting for your wish list in the historic ambience of the Hall of Exploration and Settlement. Also, learn how to draw select raptors from the Museum's Donald M. Kerr Birds of Prey Center under the guidance of artist and teacher Ian Factor. The workshop will begin with classroom instruction and sketching exercises from taxidermy specimens before moving on to drawing live birds.
---
Pine Ridge Inn Hotel & Suites in Bend OR offers a boutique hotel experience in a natural setting. Book direct with Pine Ridge Inn for our best rates & amenities