July 6, 2014
Summer-ized: Things to Do in Bend Oregon During the Summer
By: Todd Wisniewski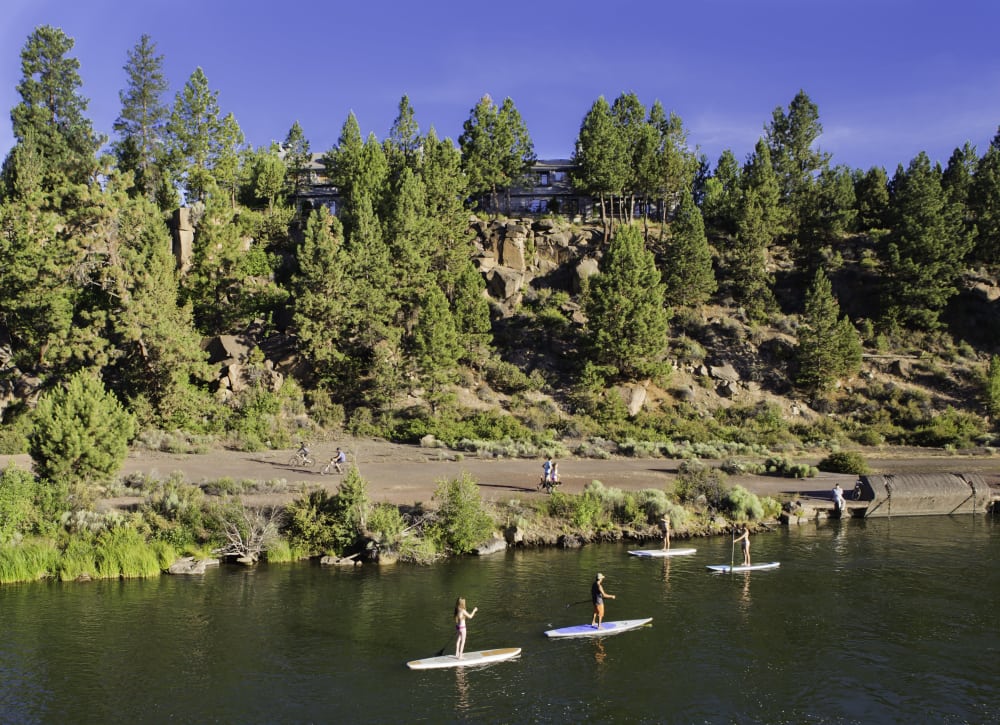 Because there's just so much dang fun to be had in Bend during the summer months, it can be downright overwhelming to put together a tidy to-do list of events, festivals, and outings for you to tackle during your stay in Bend. Without writing a novel, I tried my best to summarize some of the most fantastical things to do in Bend. Can you come up with something better? Share your spectacular summer adventures and favorite things to do in Bend with us in the comments.
Bend Summerfest
Bend Summer Festival dominates downtown Bend for three full days July 11-13, 2014. Bend's largest summer festival is comprised of live music, gourmet eats and drinks, an artist promenade, and even pony rides, petting zoos and bouncy water-infused houses for the kids. I have my sights set on namaste-ing at the Accoustic Flow yoga event with musician Franchot Tone happening near Tin Pan Alley before I partake in a full-day of grooving and grubbing. Pick up a festival and live music guide in this week's Source Weekly or check out www.bendfestivals.com.
Local's Tip: Avoid the gridlock from downtown street closures by walking or hopping on your bike. Crow's Feet Commons, a hybrid bike, beer bar & coffee shop, will offer festival bike parking in the courtyard – ask us at the front desk about bike rentals starting at $15/day.

Cascade Cycling Classic
Every July, the longest running stage race in North America takes place in Bend and attracts many pro racers and even some Hollywood celebs. I don't dig road cycling myself, but I do love watching the downtown crit with hundreds—maybe thousands—of enthusiastic spectators. The circuit race that takes place at Summit High School in Bend is also a fun watch. Find out more at www.cascade-classic.org and get ready to watch the action on July 15-20, 2014.
Summer Concerts at the Les Schwab Amphitheater 

Not all the summer concerts are sold out at the Les Schwab Amphitheater. Sure Dave Matthews and Jack Johnson sold out in minutes, but there are still some great acts coming to Bend this summer like Ringo Starr (July 17) and Amos Lee (July 18), and rumor has it, a few more shows may be announced so stay tuned to www.bendconcerts.com. Also – if you don't have tickets to the sold out shows, check out the patio seating in the Old Mill District restaurants including Greg's Grill, Anthony's, or even Naked Winery if you'd just like a glass of wine and a place to sit and listen to the music!
Local's Tip: Ticketed concerts are fun, but they don't allow outside food and bevies, or your dog, but the Summer Sunday Concerts do at the Les Schwab Amphitheater! You can catch a free concert on most Sunday's throughout the summer with your picnic basket and your pooch. Check out the lineup at www.bendconcerts.com.
Sisters Outdoor Quilt Show
The quaint town of Sisters, Oregon less than 20 miles from Bend, hosts the largest outdoor quilt show in the world every July. Over 1,300 quilts will be on display during the annual event. Master quilters and their fans come from around the world to admire these stitched works of art. The Old Mill District even celebrates the quilt show with the Around the Block Quilt Walk – a self-guided walking tour of quilts crafted by Central Oregon residents. Find out more at www.sistersoutdoorquiltshow.org and plan on going on July 12, 2014.
Bend Brewfest

You have probably figured it out that we're downright beer crazy in Bend and Central Oregon so it should be no surprise that we can throw one heck of a beer festival. Every August, the Les Schwab Amphitheater hosts over 60 craft breweries with over 170 different kinds of beer. Admission is always free, but you'll need a cool souvenir mug and tasting tokens to participate. Find out more www.bendbrewfest.com and get ready to experience a state of beervana on August 14-16, 2014.
Local's Tip: This is a cash only event, but ATMs are available throughout the venue.
Art in the High Desert
A juried art festival brings in over 100 artists from around the U.S. and Canada to show and sell their creations every August along the picturesque Deschutes River in the Old Mill. This original art show is ranked as one of the top 15 art shows in the nation and is happening on August 22-24, 2014. Find out more at www.artinthehighdesert.com.
Local's Tip: Don't make the mistake of thinking the art isn't affordable. Art in the High Desert does an amazing job of making sure there's a mix of affordably priced art along with the piece that you may have to pull out the larger limit credit card for. I've picked up some beautifully funky jewelry and yard art for next to nothing.
Water Festivities & Activities

If you find yourself tired of floating, boating, kayaking, canoeing, rafting, and SUPing (standup paddleboarding) then you may want to find another place to vacation. If you haven't tried some of these well-loved summer pastimes, then it's time to get wet already.
Rafting and Tubing in Bend, Oregon
Sun Country Tours and Tumalo Creek Kayak and Canoe make it really easy for you to rent a tube, kayak, canoe or a standup paddleboard (SUP) for an afternoon. Sun Country Tours offers an on-site mobile location at Riverbend Park where you can literally kick off your shoes and walk right in to the Deschutes River. Tumalo Creek's storefront sits adjacent to the Old Mill District shops and restaurants with riverfront access from their back lawn.
Local's Tip: The lazy river float through town can get even lazier with the Ride the River shuttle and the Sun Country Tours river shuttle operating 7 days a week through Labor Day. For a nominal fee of $3, you can ride all day long. Find out more information on floating the river and shuttle operation.
The Big Eddy Thriller is Bend's closest whitewater rafting experience that's truly fun for all ages. This is always my go-to Bend attraction when I have visitors in town because you can squeeze in an exhilarating and scenic rafting adventure after a 10-mile hike, lunch and shopping—Sun Country Tours will shuttle you from their location in town and have you back in less than three hours.
Hiking in Bend, Oregon and Beyond
In the summer, Bend's easy access to lakes is unreal so even if you decide not to be on the water, you should make a plan to hike to water. Seek out the Green Lakes trail, which treats you to water views almost the entire nine-mile roundtrip trek. If you prefer your hikes to come with heights, head to Steelhead Falls north of Redmond, Oregon and take a 20 foot plunge into a cool pool along the Deschutes River if you dare. Discover more trails for hiking in Bend.
Visit 3 of the 7 Wonders of Oregon

Did you know that Oregon has seven wonders and three of them are located a short scenic drive from Bend, Oregon? In less than three days, you can experience spine-tingling hiking and climbing at Smith Rock State Park (25 miles), the breathtaking beauty of Crater Lake (90 miles) by bike, hike, or scenic drive along the crater's rim, followed by the eye-popping Painted Hills (85 miles) where the ancient earth radiates an array of unusual colors.
Local's Tip: Devour a homemade wild huckleberry ice cream cone from Juniper Junction — aka Rockhard — as you depart Smith Rock. Heck, make it a double!
Explore Bend's Singletrack Biking Mecca
Last but certainly not least, if you're a mountain bike enthusiast you probably already realize that Bend is quietly becoming one of the largest bike destinations in the world –Biking in Bend, Oregon will surely never disappoint! With over 500 miles of singletrack within an hour radius of downtown Bend, locals who've lived here and ridden for years still haven't covered every trail. Also, with the most bike shops per capita in the U.S. (along with breweries), there are many options for bike rentals for one or more days during your stay. Go with a pro and ask about out the Pine Ridge Inn 'suite singletrack' package offering guided mountain bike tours with Cog Wild with 1⁄2 day or full day rides. For adrenaline junkies, Mt. Bachelor's new downhill bike park opened in 2013 and is expanding this summer with offerings for freeride and DH trails and bike rentals.
Local's Tip: If you prefer to explore Bend's bike trails solo, grab a spot on Cog Wild's shuttle. Local trail shuttles are available and you can even get shuttled to the McKenzie River Trail (MRT) – listed in the top 10 trails by numerous national MTB magazines!

Phew! This concludes my summer list of things to do in Bend. Can you do better? Share your spectacular summer adventures and favorite things to do in Bend with us in the comments below. If you're still looking for more to do, check out Visit Bend's event calendar that's sure to overwhelm you (in a good way) with possibilities.