March 18, 2014
Bring on Spring: Top 7 Things to Do in Bend Oregon When Winter Starts to Wane
By: Todd Wisniewski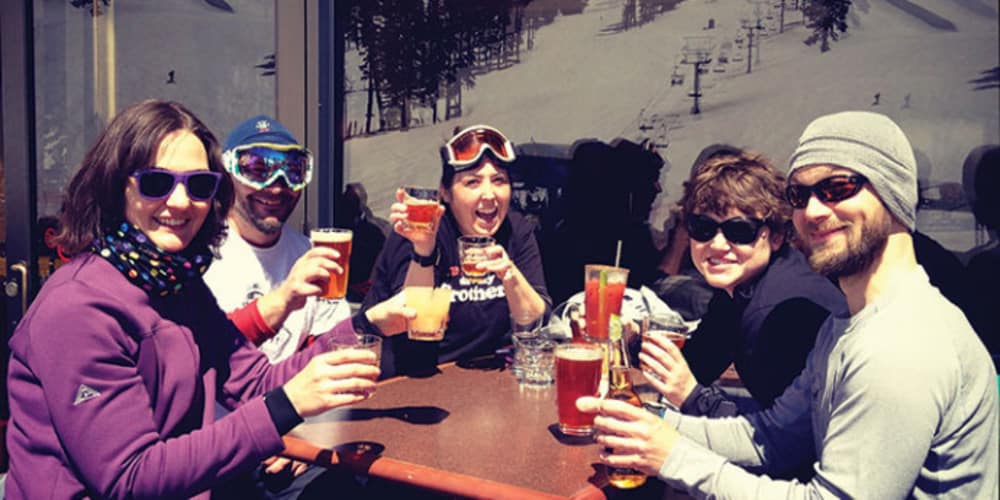 Bring it! The first day of spring is on the horizon and I am counting the days. In anticipation of the spring equinox, which I will mark with a yoga hike at Smith Rock State Park, I've put together a list of some of my favorite things to do to take advantage of the warming temps and teasing glimpses of green grass during this not-quite-winter-not-quite-summer time of year in Bend, Oregon. Read on to find things to do in Bend in the springtime!
1. SPRINGtacular: Mt. Bachelor Ski Resort's Spring Skiing Party
You may know that Mt. Bachelor is the largest ski resort in Oregon, the second largest resort in the U.S., has one of the nation's longest ski seasons (November through end of May) and is consistently raved about by some of the most popular periodicals around from Ski, Transworld Snowboarding, Conde Nast Travel, Sunset Magazine, and more. But here are a few things you may not know:
Cheap Skiing
You can't beat the spring pass price. A lift ticket costs $79, but a spring season pass is only $179. The pass has zero exclusions and it's valid all week and weekends starting April 1 through the end of May. Even if you only plan to come for a long weekend in Bend between now and the end of the season, you'll get your money's worth.
Open for Skiing and Snowboarding until May 25
A favorite time of year at Bachelor is definitely springtime where you often get many powder days well into the month of May mixed in with a handful of warm sunny days where a tee shirt can replace your jacket. All other Northwest ski resorts close well before May so head to Bend to get your last ski fix in.
Gerry Lopez Big Wave Challenge & Luau
You read this correctly. Far from the ocean, Gerry Lopez, a world-famous big wave surfer (who actually resides in Bend), hosts this annual event where snowboarders ride a series of huge wave-shaped quarter pipes, spines and banked corners, and are judged as if they are competing in a Big Wave surf competition.
Springtacular Concert Series Presented by Deschutes Brewery
Rock and roll après ski style at the Springtacular Concert Series every weekend in May. Look for the live music lineup to be announced here.
Snow Golf Tournament
Break out your clubs and "fore!" the ball across this 9-hole snow course during this one-of-a-kind golf event.
The Sun Bar
There's nothing better than a sunny day on the patio sipping some of Bend's best craft brews, or the best Bloody Mary in town, while you take a break between runs. Even on not-so sunny days, the Sun Bar, located outside of the Sunrise Lodge, is an indoor-outdoor umbrella bar and has become one of my favorite on-mountain hangouts.
Downhill Mountain Biking
And when the snow melts, the downhill mountain biking begins! Summer resort operations begin daily starting July 4. Late last year, Mt. Bachelor added a downhill bike park to their bag of outdoor tricks. Check out the downhill bike course here.
2. SPRINTacular: Go Outside to Run
Ditch the treadmill and spin classes to fill your lungs with some of that fresh mountain air that Bend is full of. Running, walking and biking events are plentiful starting in the spring so mark your calendar for some of my favorite ways to get moving:
Sunriver Mudslinger – March 23
Horse Butte 10 Mile Trail Run – April 6
Footzone Robe Run – April 24
Jammies and robes aren't required, but certainly rewarded. Show up for this 3- to 5-mile run in your best "evening" wear for a chance to win prizes. Doughnuts and chocolate milk served at the finish line.
Salmon Run – May 3
US Bank Pole Pedal Paddle – May 17
Happy Girls Run Half, 10K, 5K – May 24-25
Heaven Can Wait 5K – June 1
Dirty Half – June 8
Oregon Senior Games – June 18-22
As part of the National Senior Games Association, this multi-sport annual competition in Bend invites participants ages 50 and over to compete in everything from bowling to softball to track and field.
3. Hike Your Butte Off
We all know what a popular hiking spot Bend is during the summer months with access to dozens of trails along the Cascade Lakes Scenic Highway and the McKenzie Scenic Byway, but few realize how many spring hikes are scattered in and around Bend when higher elevation hikes are out of reach.
Deschutes River Trail
As part of the urban trail system in Bend, this trail includes both paved and dirt paths perfect for hiking, running, and biking. Plan on cooling off with a standup paddleboard session or a lazy float down the Deschutes River. Hourly and daily rentals are available on the river from Sun Country Tours and Tumalo Creek. Best of all, the river trail is conveniently located in the "backyard" of the Pine Ridge Inn so pre-breakfast runs or after-dinner hikes are easy breezy. For more Bend hikes, check out Visit Bend's hiking list and tune into the Bend Buzz Blog.
Pilot Butte State Park
Walk or run this 2-mile loop to the highest vantage point in the city of Bend for a spectacular glimpse of the Cascade Mountain range from Mt. Hood to Mt. Bachelor. Pick your path – there's a paved trail or opt for the off-road route!
Smith Rock State Park
Get ready to ooh and aww when you pull up to this majestic state park located in the small town of Terrebonne, a mere 30 minutes from Bend. Bring your hiking shoes, mountain bike, fishing pole, AND rock climbing gear to this recreation oasis surrounded by towering red basalt rocks.
Horse Butte
The eastside of Bend is rarely frequented for hiking and biking during the summer, but this gem is where mountain bikers and hikers go in the winter months to work off some pent-up energy on 10 to 30 mile loops.
Alder Springs
I'm almost hesitant to tell you about this hike, which has been a relatively well-kept secret and happens to be one of my favorites during the springtime. It's a trek to get to — 32 miles from Bend — off a bumpy dirt road, but well worth the drive. This 5-mile round-trip hike features dramatic landscape and vegetation changes, and a fun creek crossing, which can be REALLY fun during the spring snow melt season. The trail is dog friendly, but you may want to consider keeping Fido on a leash due to rattlesnake sightings. My dog, Gitsy, is a curious pooch that loves to poke her nose under every rock and bush.
For this one, we have to leave you with directions: Head west on Highway 20. After 13 miles, turn right on Fryrear Rd. At the intersection with Highway 126, go straight to continue on Holmes Rd. After 1.5 miles, take a right to stay on Holmes Rd. At milepost 7, take a left on NF 1393. Go past the kiosk and up the hill. After about 5 miles on the gravel road, turn right at the sign for Alder Springs Trailhead. Trail map here.
4. BIKEtacular: Biking and Cycling in Bend
Welcome to Bike Town USA — home of scenic road cycling loops and stunning single-track and whoop-de-whoops. Bend Oregon has hosted a number of past USA Cycling National Championship bike races with the US Cross Country National Championships coming in 2015 & 2016. Look for Bend's cyclocross season to kick-off in the fall as Bend hosts the annual Halloween Cyclocross Festival featuring the Halloween Cross Crusade series race.
Three Sisters Scenic Bikeway
Maston
Horse Ridge
Horse Butte
Smith Rock
Phil's Trail
5. Brewtopia
The Bend Ale Trail has become world famous and knocked off in many cities across the nation, but there can be only one reigning Beer Town USA and that's Bend. With more breweries per capita than any other city in Oregon, you can trek the largest beer trail in the West on foot or bike from the Pine Ridge Inn hotel, or hop on a guided tour. Here are a few of our favorite beer events coming up over the next few months:
Central Oregon Beer Week – May 23-31
Nine days of pure craft goodness. This citywide beer shindig includes the Brewski at Mt. Bachelor, a Deschutes Brewery Beer-Lesque tasting, and special beer tastings and celebratory events throughout Bend and Central Oregon. Go to www.centraloregonbeerweek.com for the latest event details.
The Fermentation Celebration – June 19
An evening of beer tasting at 30 different stations scattered around the scenic Old Mill District along the river. Listen to live music, grab a bite to eat at one of the many restaurants, and make a beer-filled night of it. Kids and dogs are welcome. Find out more about the Fermentation Celebration here.
Bend BrewFest – August 14-16
Yeah, yeah, I know this isn't until August, but I couldn't resist including it in my list since it's the second largest beer festival in the state of Oregon held on the grassy lawn at the Les Schwab Amphitheater in the Old Mill District. Check out BendBrewFest.com for all the details.
Helpful Hint: The Pine Ridge Inn hotel is walking distance – 1.2 miles to be exact – to the Old Mill District so play it safe and stroll to these tasty beer events.
6. Art Strolls & Soirees
First Friday Spring Art Hop – The First Friday in April
The largest artwalk of them all with over 60 businesses and restaurants in downtown and the Old Mill District staying open late to welcome the cooped up masses after a loooong winter in Bend. First Friday Art Walks happen every month throughout the year, but this is a biggie.
Last Saturday at Old Ironworks – Last Saturday of Every Month
The Old Ironworks Art District houses some indie shops and galleries and plays host to food, drinks and live music every last Saturday of the month.
The Foodie Crawl – April 27
Stroll at your own pace from venue to venue around downtown Bend for small plate and beverage pairings from featured top chefs and restaurants throughout Central Oregon. Dessert brings everyone together at the end of the evening with live music and foodie camaraderie. Tickets can be purchased here.
Bend Summer Concerts – Memorial Day Weekend
Memorial Day weekend kicks off the summer outdoor concert season in Bend with big name musicians performing at the Les Schwab Amphitheater in the Old Mill District. The National is set to play and look for more show announcements coming soon at www.bendconcerts.com. The concert venue at the Old Mill District is both scenic and small, and provides an intimate concert going experience.
Roundabout Art Route and Tin Pan Alley Art Collection
Art is always on display in Bend 24/7. The self-guided Roundabout Art Route tour highlights over 20 roundabout sculptures sitting in the middle of Bend's traffic circles. I highly recommend a guided Art Safari Tour by John Flannery of GETIT Shuttle. His tour includes both historical and strange factoids only a long-time Bend local would know. The Tin Pan Alley Art Collection features art in obscure places throughout downtown Bend. Paintings from accomplished handpicked artists are chosen to pretty up public places ranging from back alley brick walls to parking garages.
7. Festival Frenzy
Bendites go through serious festival withdrawls during the winter months with only Oregon Winterfest in February to keep us going until spring, so as you can imagine, we are ready to get out and dance in the streets.
NorthWest Crossing Spring Festival – April 11-13
This street festival in the NorthWest Crossing area of Bend hosts a ton of fun events for adults and kids. An art and wine bop, street chalk competition, cycle/recycle art exhibits, live music, a family fun area, and my favorite – high tea with the Spring Fairy. This event is for kids, but nobody would probably care if you showed up in your prettiest princess outfit to listen to the Spring Fairy tell her tales while munching on scones. Okay, they probably would care. The high tea event is limited to the first 25 people to sign up here.
Earth Day Fair & Parade – April 21
Dress as one of your favorite species and march along in the Procession of the Species Parade in downtown Bend followed by the Earth Day fair where you can meet and greet local organizations who are making Central Oregon a better place to live and visit.
That rounds out my list for the top 7 things to do this spring in Bend, Oregon. Be sure to add your favorite things to do below! If you need more ideas during your visit to Bend just ask one of the smiling faces behind the front desk at the Pine Ridge Inn Hotel and Suites. We hope to see you in Bend soon and happy spring!